Floral Tin Container
Versatile and charming, our floral tin container can be used to hold pens and pencils, kitchen utensils, dried flowers, or a small potted plant. However you decide to display this piece, it`s sure to add a welcome touch of spring!
Rating Medium: Acrylics on tin
Materials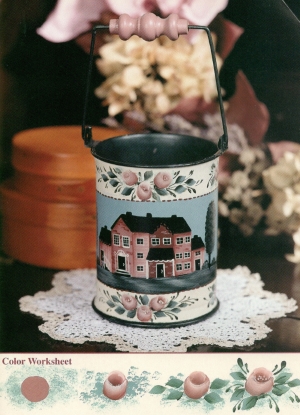 Debi's Calico Corner tin container, 4 1/2″ high x 3 1/2″ diameter.
DecoArt Americana Acrylics
Brushes: Loew-Cornell Series 7350 No. 1 liner; Series 7300 Nos. 4, 8, and 10 shader; 3/4" or 1" flat of choice; and an old scruffy brush
Rubber gloves
Vinegar
DecoArt All Purpose Sealer
Tracing paper
Transfer paper
Stylus
Waterbase satin varnish of choice
Preparation
Step 1. Wear rubber gloves to prevent the oil from your hands from touching the metal. Wash container in soapy water and then rinse with vinegar water. Allow to dry. Step 2. Basecoat entire outside of tin with a mix of CG + sealer (1:1). Allow to dry. Apply a coat of straight CG to the surface. Step 3. Mark off the tin 3/4" below the top rim and ¥4" above the bottom rim. Paint these areas with BUT several times for complete coverage. Step 4. Paint the inside of the container, rims, and bottom surface using a mix of HDG + sealer (1:1). Allow to dry, then apply a coat of straight HDG. Handle is MA (or paint any color of choice). Step 5. Trace entire design onto tracing paper, but transfer only basic pattern lines onto surface.
Painting
Note: Refer to the Color Placement Diagram on page 43 when painting land and building areas. Two coats of paint will give complete coverage. Be sure to check the building lines to be sure they are perpendicular to the bottom and sides of the tin.
Step 1. Base land area HDG. (Variations in color will be added later). Building section I is based MA + BUT (1:1); board lines are thinned RR and railing is BUT. Section 2 is based MA; paint bricks RR thinned with water and trim door with BUT. Base section 3 MA + BUT (1:1); board lines are thinned RR. Section 4 is based RR; bricks are thinned MA and porch posts and trim are BUT. Base section 5 MA; bricks are thinned RR. Section 6 is based MA + BUT (1:1); board lines are thinned RR. Step 2. All windows, doors, and roofs are LB. Windows and doors are outlined in BUT. Step 3. Shade buildings by floating thinned RR along the left side of each section. When dry, float under the roof lines. Using the No. 1 liner and RR, make a line of "stitching" to help separate the top and bottom BUT borders. Step 4. Paint tree trunks LB. Using the scruffy brush, begin by pouncing HDG on the entire tree foliage area. Wipe brush and repeat the pouncing with CG + HDG (medium green). Pounce this color about two-thirds of the way across foliage area, beginning at the right side. Add a bit of BUT to the medium green mix and tap on tree about one-third over from the right edge of tree. Wipe brush and pick up the smallest amount of MA. Carefully add a touch to the right side of tree, keeping color in the upper two-thirds and to the outside of the tree (refer to color photo for placement). If you are not pleased with your trees, simply begin again. Trees will each look slightly different since the brush pressure applied for each tree will vary. Step 5. Pounce on shrubs using the same greens as for trees. To highlight land area, add the same palette greens to the HDG area, slashing left and right and back and forth. Add paths from the doors using CG. Stand back from the piece to see if you need more highlights. Step 6. Paint filler flowers CG using the old scruffy brush, pouncing behind where the roses will be and extending slightly outward. Base roses MA. Double-load the No. 4 shader with BUT and RR and blend on palette, sliding the BUT side into the RR. Paint in top then bottom section of rose, picking up more paint as needed. Double-load the No. 4 shader with HDG and CG and add leaves. Stems and backward strokes are HDG.
Finishing
Finish with your favorite varnish.
Palette
| DecoArt Americana Acrylics | |
| --- | --- |
| Buttermilk | BUT |
| Colonial Green | CG |
| Hauser Dark Green | HDG |
| Lamp (Ebony) Black | LB |
| Mauve | MA |
| Rookwood Red | RR |