The Art of Vinegar Painting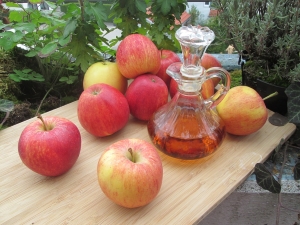 Decorative finishes are hot! Everywhere you look, you see painted furniture, faux finished walls that look like marble or exotic woods, wooden boxes and picture frames with metallic finishes, tins masquerading as wood, even cardboard containers made to look like leather. Amazing effects can be achieved with creative paint finishes. Decorative finishes have been in and out of fashion since the days of the Pharaohs in ancient Egypt. In America, the early settlers frequently used "fancy finishing" (vinegar painting) make common woods, such as pine and oak, look like more expensive materials. They also used this technique to produce decorative fantasy finishes. Today, we can use oil or acrylic paints, premixed alcohol, varnish, and/or chemical agents to produce the effects we desire. In the 18th and 19th centuries, most artisans arc raftsmen used vinegar paint to achieve their graining techniques. Several years ago, I attended a symposium- in Williamsburg, Virginia, sponsored by the Abby Aldrich Rockefeller Folk Art Center. There, I learned how to mix vinegar paint and to use traditional tools to create decorative finishes. One of the nice things about vinegar paint is that until it is sealed with varnish or shellac, you can wipe it off with a moist cloth or paper towel —even after it has dried. If you don't like the look of your graining, just wipe it off and try again! Early artisans used stale ale (or malt vinegar and powdered dry pigment to make distemper glazes. Here are two recipes for vinegar paint:
Combine half a cup of white or apple cider vinegar, one teaspoon of white granulated sugar (or Karo syrup), and a squeeze of liquid dish detergent, then mix thoroughly (the sugar should be dissolved). in a separate container, place one teaspoon at tempera paint or powdered pigment. Add the vinegar mixture to the powder, a ire at a time, until it is the consistency of sour cream. Mix thoroughly.
Mix together one teaspoon of white vinegar and a one-fourth to one-half inch thread of tube watercolor paint. This is quicker and easier for small surfaces, such as a picture frame.
Time for Experiments
With either of these recipes, you will have to experiment. Different pigments (colors) will require different amounts of the vinegar mixture—and you may have to add more of the vinegar mixture periodically to compensate for evaporation. To test for the right consistency, brush some of your vinegar paint on a practice surface. Draw a feather through the paint you have just applied. If the line is easily visible (the paint doesn't run back into the furrow made by the feather), then the consistency is correct. Generally speaking, you will find that it is better for the basecoat to be lighter than the glaze. However, as with everything, there will be exceptions to this rule. The following combinations have worked for me: burnt sienna with black glaze, yellow ochre with burnt umber glaze, red with black glaze, warm white with Prussian blue glaze, Hooker's green with black glaze, permanent green light with Prussian blue glaze. Try any of these and experiment with others. One word of warning—once you start to experiment, you will find it hard to stop! You will see many surfaces that seem to cry out for you to decorate them in this way…AND…you will find lots of items to use to create interesting textures in your vinegar glaze. Try some of the following to make various patterns: feather, comb, crumpled plastic wrap, the tip of your finger, a roll of window putty, torn cardboard, twine, paper towel, rubber stamp, patterned brayer, graining tool. You can use vinegar painting to enhance the sides of a box with a painted lid or to decorate a picture frame—let it stand on its own or use it as a background or to complement your decorative painting. Be creative—try lots of combinations and have fun!